Introduction to CLARIA® Functional Clean-Label Starch
Also known as
Clean-label starch, functional clean label starch, starch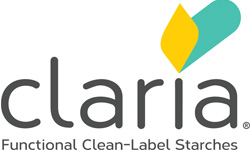 CLARIA® Functional Clean-Label Starches label simply as starch yet performs similarly to modified starches.
Tate & Lyle's line of CLARIA® Functional Clean-Label Starches empowers manufacturers to meet increased consumer demand for cleaner labels enabling formulations with similar functionality to a modified food starch. Globally, consumers are demanding convenient, great tasting foods that have recognisable ingredients on the label. In fact, one-in-four new products today is launched with "cleaner-label" claims. 
CLARIA® Functional Clean-Label Starches use CLARIA® technology, a proprietary technology that has been shown to provide improved sensory attributes (neutral colour) vs. other functional clean-label starches.
Coupled with Tate & Lyle's commitment to partnership and ingredient innovation, CLARIA® Functional Clean-Label Starches provide manufacturers the opportunity to co-create the next generation of cleaner-label products.
CLARIA® Bliss Functional Clean-Label Starches
CLARIA® Bliss are functional clean-label tapioca-based starches that deliver a whiter colour and a cleaner flavour than other functional clean-label tapioca starches. CLARIA® Bliss thickens and sets to form a soft, translucent gel that is especially desirable for manufacturers with the added benefits of a soft gel texture, non GMO and gluten free attributes. CLARIA® Bliss labels as 'tapioca starch' enabling clean label claims on a variety of applications including dairy desserts, clear sauces, chilled ready meals or filling of fresh baked goods.
CLARIA® Functional Clean Label Starch is available globally
CLARIA® application areas
Chinese consumers increasingly make dairy purchase decisions based on health benefits. Products with a lower fat content, reduced calories and added fibre, that maintain a luxurious texture, enable customers to address a variety of health and wellness concerns. ProductsRead More
Applying CLARIA ® Functional Clean Label Starch
CLARIA® Functional Clean Label Starch can be applied in products that require the use of an ingredient with a similar functionality to modified food starch. Our range of products can be used across a wide range of food-product categories and processing conditions.