Our recipe for success
Through our scientific and technical expertise, large-scale manufacturing operations and talented people, we create ingredients and solutions for our customers which are used in products enjoyed by millions of people every day around the world.
We use innovative technology to turn raw materials like corn, tapioca, and stevia leaves into ingredients and solutions that add taste, texture, nutrients and increased functionality to food and beverages.
Think and create
Our scientists and nutritionists research, develop and test ingredients to create solutions for our customers.
We work closely with our customers through every stage of our innovation process to move ideas quickly from concept to commercial launch. Because consumer preferences are different across the world, we work with customers in our local applications labs to reformulate their products using our ingredients for their local markets.
Source and manufacture
Our ingredients come largely from agricultural crops, mainly corn. We produce our products and ingredients primarily at our large-volume corn wet mills and at smaller blending facilities. Wherever we are in the process, from field to customer, our priorities are the safety, quality and consideration for the environment.
Partner and sell
Our strong technical knowledge of the interplay between sweetness, texture, fibre enrichment and stabilisation means we can provide customers with solutions that bring specific functionality and nutrition to their products, making them healthier and tastier.
For the high-volume products we make, we leverage our scale and cost-competitive manufacturing base and compete mainly on price, quality and service.
More than extraordinary ingredients
Transforming Lives Through the Science of Food is about much more than selling high-quality ingredients and that's why our purpose inspires everything we do:
We help people make healthier and tastier choices when they eat and drink, and lead more balanced lifestyles.
We help build thriving communities where we operate and support people to achieve their potential.
We care for our planet and help protect its natural resources for the benefit of future generations.
Adding value at every step
We help our partners at every step. Find out how we go the extra mile for our customers.



Ingredient experts
We have a deep knowledge of how our ingredients work; read more about how we use our ingredients to create innovative solutions.


Why Tate & Lyle?
We've been making extraordinary food ingredients for over 150 years and long track record of success. Find out more about why our customers keep coming back.
At a glance
Tate & Lyle is a vibrant, global and hardworking environment. Our purpose is Transforming Lives Through the Science of Food and all our people have an important part to play in making this happen.
Meet the people behind Tate & Lyle
Everyone at Tate & Lyle has an important role to play in delivering our strategy and making us an extraordinary company.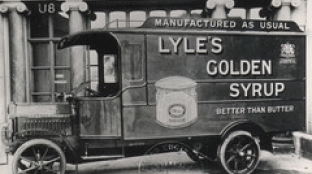 Our heritage
We have been helping to make food people love for over a century.