Ahead of next month's United Nations Climate Change Conference, where global leaders and experts will meet in Dubai, UAE, to find solutions to tackle the climate crisis, Dawn Allen, Tate & Lyle's Chief Financial Officer, joined peers at the Economist's Countdown to COP 28 conference. Here, Dawn shares her view on the interconnection between purpose and business performance, and on the future of sustainable finance.
"There is a well-known phrase that purpose without performance is not sustainable and performance without purpose is meaningless, and that's a belief I fully subscribe to," Dawn explained. "When the two are linked there is a multiplier effect of both higher and long-term, sustainable value creation."
By focusing on sustainability and embedding more sustainable practices into its business, Tate & Lyle is working to build resilience, strengthen transparency and establish climate-friendly partnerships and programmes to meet tomorrow's challenges and opportunities.
"The system we use in finance today has been refined over centuries, and we face a significant challenge to develop sustainable finance practices that are on par, especially within the required timeframe," Dawn continued. "We need standardisation, for instance in how we measure and communicate opportunity and risk, so we can focus our energies on climate action. Perfection in ESG data doesn't exist, so companies shouldn't wait for it before starting programmes to drive change, which take time to bed in; those that do, will be left behind."
In recent years, Tate & Lyle has moved to build capacity beyond its sustainability team, hiring new people and adding responsibilities within key functions so systems and processes can be designed together. For instance, we recently created a new role focused on developing our long-term strategy for sustainability, and how we can incorporate sustainability into all aspects of key decision-making and finance.
"We measure ESG progress in terms of our public targets, some of which are linked to a revolving credit facility and management incentive schemes, as well as embedding sustainability in capital investment decisions targeting our net zero and water reduction commitments," Dawn explained. "Our internal teams are also proactively coming to us with proposals for driving ESG progress, and we're seeing that more and more, from innovation to how we procure energy."
For Tate & Lyle's leadership, the end goal is a culture where sustainability is both part of everybody's job and a core part of business-as-usual, and good progress has been made.
"As CFO, I know it's crucial to be part of sustainability conversations so I can act as gatekeeper, ensuring every investment or innovation has a sustainability lens, as it must," Dawn added. "But we must strike the right balance between purpose and performance, both in what we do ourselves and what we ask of our supply chain partners. For instance, we wouldn't ask farmer suppliers to implement changes that don't support their farm's future long-term and the results from our two sustainable agriculture programmes show that taking a science-driven approach can bring efficiency, economic and sustainability gains. With sustainability, we all win together, or we all lose together."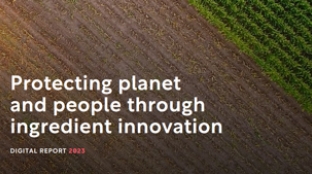 Protecting our planet and people
We have partnered with Sustainability Magazine to launch an article series exploring the vital role that ingredient companies can play in supporting the development of more sustainable food and drink.