Rowan Adams, Executive Vice President of Corporate Affairs, shares in our 2021 Annual Report how our people took to heart the importance of keeping our communities safe, well and cared for during a challenging year.
Our Programme
Our community involvement programme is about building thriving communities and is a key part of how we live our purpose. For us, community involvement means working together to build stronger, healthier communities where we live and work. and supporting partners and projects where we can make the most difference. That's why our community involvement programme is centred around health, hunger and education, with a particular emphasis on supporting children and young adults.
Health: we support projects which improve the health and wellbeing of people of all ages, helping them understand the roles played by nutrition and physical activity in a well-balanced life.
Hunger: we work with organisations to give people in need in our communities, and beyond, access to nutritious meals.
Education: we work with local schools, education foundations and other community partners to help prepare students for healthier, brighter futures.
These three areas are part of our purpose targets and commitments. Our partners include registered charities, educational institutions and non-governmental organisations that meet our high standards for delivering services and results. Our plan and budget for community involvement are developed and approved as part of our annual operating plan process.
Our Year
Community support is about adapting to whatever is most needed, when it's most needed. Across this exceptional year, we stepped up both our connections and funding alongside our community partners, ensuring they received the help they needed at a time of great uncertainty. At the heart of our outreach was ensuring food and health and safety support was available to all. As part of our annual programme, we support 25 food banks across the world. They told us early on in the pandemic that they were seeing significantly higher demand, mostly from families who had never had to use a food bank before.
"Colleagues stepped up and masked up to support our local communities during the pandemic, improving lives at a time of real need."
Rowan Adams, Executive Vice President, Corporate Affairs
So we decided to make extra donations totalling US$200,000, which together with our annual programme helped to provide around 1.7 million meals for people in need. We also provided PPE for employees' family members who were frontline workers.
Pandemic restrictions also meant we had to adapt many of our traditional in-person programmes and find creative ways to continue our support. With schools closed during lockdown, we moved our traditional classroom visits onto virtual platforms with teams in Latin America, the UK and the US taking part in virtual mentorship programmes for students of all ages.
In Argentina, Brazil, Colombia and the US, we made sure vulnerable children got their school meals through a combination of mobile food trucks, school pantries and backpack programmes. In Chicago, volunteers took part in a programme to make calls to elderly people living alone or home-bound to ensure they had access to health support and had enough food to eat. Some of the activities we usually support didn't happen because of lockdown – the London Youth Games, for example – and we aim to re-engage with these programmes in the year ahead.
The pandemic was challenging in so many ways, but one positive outcome has been a real strengthening of local community spirit and togetherness. Thanks to the inspirational and selfless work of colleagues across the world, we helped our communities get through the past year, forming a stronger understanding of community along the way and will continue to build on our learnings and partnerships in the months and years ahead.
Read more from Rowan, including our full community overview on page 38 of our Annual Report 2021, here
---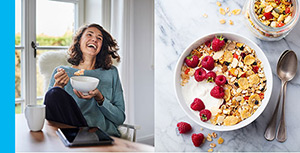 Find out what else we've been up to over the past year in our Annual Report 2021 hub
Download a copy of the Annual Report 2021 below:
Download the Annual Report 2021