Deciding he liked selling more than farming, he left the farm in 1883 aged 16 and went on the road selling food products, including starch. In the early 20th century, Staley was buying bulk starch for two cents a pound, repackaging it under his own Cream Starch label, and selling it for a profit of five cents a pound. Realising he was serious competition, his suppliers joined together to cut off his supply of raw materials. Staley responded by buying a starch plant in Decatur, Illinois in 1906 and setting up the A E Staley Manufacturing Company grinding 1,000 pounds of corn a day.
 
The company has made its mark on the world with a number of notable achievements; including the construction of the Staley dam in Decatur in 1919 (now the Lake Decatur dam); the introduction of soybean processing and the development of a nutrient for penicillin. The company continues to expand its research and development programmes and facilities and produces a large range of products manufactured across the USA and Mexico.
 
Gene Staley died in 1940, after seeing his son, A E Staley Jnr (Gus) become president of the company in 1932.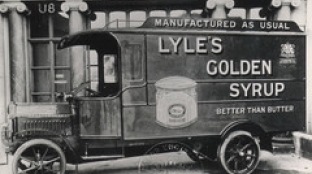 Learn more
Find out more about the history of Tate & Lyle by visiting our history page.