Group delivered solid financial progress. Read more about our full year performance in our FY19 Results Announcement.
Key highlights
Group delivered solid financial progress

Food & Beverage Solutions maintained momentum
Sucralose performed strongly
Primary Products volume in line with prior year despite challenging market conditions

Progress on each of 'Sharpen, Accelerate, Simplify' priorities
Four-year US$100m productivity programme on track, with benefits offsetting cost inflation
Strengthened balance sheet provides flexibility to invest in long-term growth
Financial highlights
3% increase in Food & Beverage Solutions profit3 to £143m, volume 3% higher

Volume up 3% in North America, up 15% in Emerging Markets, down 2% in Europe, Middle East and Africa
Sales 5% higher2, up in all regions

11% increase in Sucralose profit3 to £61m, volume 16% higher
11% decrease in Primary Products profit3 to £148m, volume in line with prior year

Sweeteners and Starches profit3 5% lower due to higher input costs
Commodities profit3 £10m lower following exceptionally strong profits in fiscal 2018

Group statutory profit before tax 16% lower due to net exceptional costs of £58m (£49m non-cash)
4% increase2 in adjusted profit before tax
4% increase2 in adjusted diluted earnings per share
Adjusted free cash flow higher at £212m
90bps improvement in return on capital employed to 17.1%
Proposed final dividend of 20.8p per share; full year dividend of 29.4p per share up 2.4%
Nick Hampton, Chief Executive, said:
"I am encouraged by our progress over the past year. The Group delivered solid financial results and we are starting to see real momentum from the three priorities I set out last year to sharpen the focus on our customers, accelerate portfolio development and simplify our business.
In Food & Beverage Solutions top-line momentum continued with solid volume growth in North America and double-digit growth in Emerging Markets. Sucralose performed particularly strongly. Primary Products did well to deliver steady volume in the face of challenging market conditions. Across the business, strong cost discipline helped offset higher than expected input costs and operational execution was excellent, particularly during the extreme cold weather in the US in early 2019.
For the year ending 31 March 2020, we expect continuing progress in Food & Beverage Solutions and gains from productivity initiatives to offset both lower Sucralose profits and continued market challenges in Primary Products. As a result we expect earnings per share growth4 in constant currency to be broadly flat to low-single digit."
1 The adjusted results for the year ended 31 March 2019 have been adjusted to exclude exceptional items, amortisation of acquired intangible assets, the tax on those adjustments and tax items that themselves meet the definition to be treated as exceptional. Adjusted free cash flow and return on capital employed are also adjusted metrics. A reconciliation of statutory and adjusted information is included in Note 3 to the Financial Information. The adjusted results for the year ended 31 March 2018 have been restated to include net retirement benefit interest (2018 – £5 million) and associated tax.
2 Percentage change in constant currency
3 Adjusted operating profit, percentage change in constant currency
4 Adjusted diluted earnings per share from continuing operations at constant currency, growth after adopting IFRS 16 (which is expected to reduce earnings per share growth by circa 1ppt in fiscal 2020)
---
For more information contact Tate & Lyle PLC:
Christopher Marsh, VP Investor Relations
Tel: +44 (0) 20 7257 2110 or Mobile: +44 (0) 7796 192 688
Andrew Lorenz, FTI Consulting (Media)
Tel: +44 (0) 20 3727 1323 or Mobile: +44 (0) 7775 641 807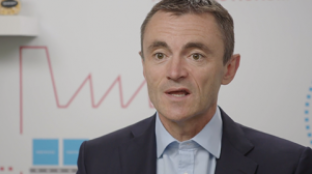 Learn more about Tate & Lyle
Watch CEO Nick Hampton talk about Tate & Lyle and our priorities