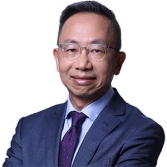 Independent non-executive director
Joined the Board in January 2021. John is the Chief Executive Officer of Zhejiang Supor Co., Ltd and a non-executive director of nutrition group China Feihe Limited. Prior to joining Zhejiang Supor, John was an executive director at Feihe, and prior to that he held various senior positions within the Nestlé Group, including President for Wyeth Nutrition Global and the Chairman and Chief Executive officer of Nestlé Greater China Region.
John brings a breadth of food and beverage experience with a deep understanding of markets in Asia, particularly in China. In a career spanning 30 years in the fields of nutrition and food and beverages, John has also held senior roles with Coca-Cola and Procter & Gamble.
Member of the Audit and Nominations Committees.
---