TEXTURE-VANTAGE® Expert Systems include:
Introducing TEXTURE-VANTAGE® Expert Systems
Choosing the right texturiser can be a lengthy and difficult process as it requires time-consuming and costly research to understand how texturisers will be influenced by the other components of the formula. To address this challenge, Tate & Lyle is investing in a suite of cutting-edge texture design tools and is inviting food and beverage manufacturers to work with our scientists as they apply these tools to efficiently solve their formulation challenges.
These TEXTURE-VANTAGE® design tools aim at predicting product and ingredient performance and reducing development time. 
TEXTURE-VANTAGE® is a registered trademark of Tate & Lyle in the UK and EU.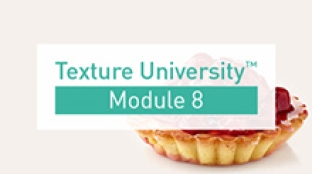 Recap module 8 now!
Our latest module, The Impact of Processing on Starch in Foods, aired on 5 May 2021 with insights into achieve maximum viscosity under varying processing conditions!
Latest Texturants News and Trends
Latest Texturants News and Trends