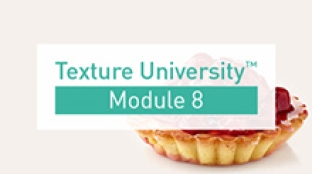 Recap module 8 now!
Our latest module, The Impact of Processing on Starch in Foods, aired on 5 May 2021 with insights into achieve maximum viscosity under varying processing conditions!
Created by scientists, for scientists
Texture University™ is the first online starch-based scientific education programme of its kind. Our scientists have a full curriculum of Texture University courses that will help you start from the basics and learn to tackle even the hardest formulation challenges. A new session is introduced quarterly and attendees receive a certificate of completion at the end of each module.
Texture University™ is part of Tate & Lyle's TEXTURE-VANTAGE® Expert Systems.