Understanding Industrial Starches
Our large portfolio of industrial starches helps meet the needs of an evolving market. Our products are manufactured from renewable raw materials and enhance customer product performance across a wide range of industries —from paper production to adhesives and laundry processes, to applications in building supplies, oil drilling and more.
Our products are used in a wide range of paper and specialty industrial applications. These include: printing & writing, tissue, containers and board liner, building products, adhesives, speciality binding applications and many others. With over 100 industrial starches in our portfolio, we can help you meet with your customers high standards, while benefiting from the knowledge and expertise that Tate & Lyle offers.
Director of Marketing & Pricing, Primary products
We work in partnership with you, getting to know your products and unique processes and then bringing together our chemists and engineers to formulate and develop the right solution for your needs. This collaborative and comprehensive approach is how we've become one of the world's leading industrial starch companies.
Research and development
Find out about our approach to R&D and the techniques and experiences we use in order to make your products extraordinary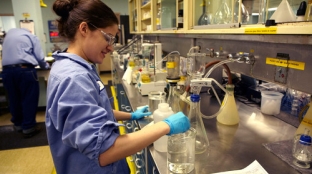 Applying Ingredients
Find out how we turn Industrial starch products into the best value ingredients for our customers.
Applying ingredients Industrial starches WYSIWYG
Let us help you
Our deep knowledge of industrial starch products and processes enables us to deliver solutions that work within your specific manufacturing environment. We work as a specialist extension of your team, not just a starch supplier.
Packaging
How can we provide the right solution for your packaging requirements?


Cost
How can we offer low-cost, high-quality industrial starch solutions?

Water and energy
How can we reduce your water and energy use and meet with regulatory obligations?
Explore our industrial starch know-how
Our adhesive products are suited to a wide range of applications, from those that demand fast-tack and strong-bond adhesions to more standard applications. Our dent and waxy corn adhesives offer a range of dextrin solubilities and viscosities making them suitable to a wide-range of uses including labels, board laminating, case and carton sealing, seam pasting, tube winding, and other paper-converting operations. We understand the intricacies of working with adhesives and offer a flexible and versatile portfolio with easy shipping, storage and handling.
Our adhesive starches' functionality
Product
Family

Lamination
Tube
Winding
Bag
Making
Carton
Sealing
Remoistenable
ECLIPSE® Functional Industrial Starch
x
x
x
x
 
ANCHOR® LR Acid Modified Corn Starch
 
 
x
 
 
STADEX® Dextrin
x
x
 
x
x
ETHYLEX® Surface Treatment Starch
 
 
x
 
 
ICB
 
 
 
 
 
KOLDEX® Dextrin
x
x
x
x
x
Pearl
 
 
 
 
 
STA-TAPE™ Waxy Acid Modified Starch
x
 
x
 
x
Find out more about our adhesive ingredients
ECLIPSE® Functional Industrial Starch 
We offer a range of speciality thickeners and binders that can partially replace expensive polyvinyl acetate and cellulosics in products such as joint compounds, tile grout, paints, and spray-textured coatings/insulation. Our deep knowledge of starches means we can offer bespoke solutions that are tailored to your manufacturing environment.
Find out more about our building ingredients
This product information is published for your consideration and independent verification. Tate & Lyle accepts no liability for its accuracy or completeness. We may change this information at any time. The applicability of label claims and the regulatory and intellectual property status of our ingredients varies by jurisdiction. You should obtain your own advice regarding all legal and regulatory aspects of our ingredients and their usage in your own products to determine suitability for their particular purposes, claims, freedom to operate, labelling or specific applications in any particular jurisdiction.