As a cooper and ship owner, Lyle was involved in transporting sugar for many years. In 1865, he added sugar refining to his business interests through his co-purchase, of the Glebe Sugar Refinery. After the death of the principal partner, John Kerr, in 1872, Lyle sold his shares and looked for a site for a new refinery.
In 1883 Abram Lyle & Sons started melting sugar at Plaistow Refinery, just 1.5 miles from Henry Tate & Son's Thames Refinery. Lyle knew that the sugar cane refining process produced a treacle-like syrup that usually went to waste – but that could be refined to make a delicious preserve and sweetener for cooking. "Goldie" was made from the very start, in small but increasing quantities. The syrup was poured into wooden casks and sold to employees and local customers. Word spread quickly, and within a few months, they were selling a tonne a week. Wooden casks were soon replaced by Lyle's Golden Syrup dispensers, found on the shelves of grocery stores. Lyle's Golden Syrup was first sold in tins in 1885. Today more than a million tins leave Plaistow every month.
Abram Lyle died in 1891, leaving his sons to carry on the business at Plaistow.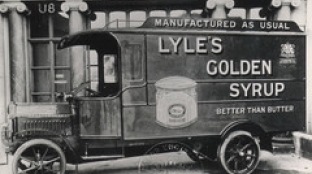 Learn more
Find out more about the history of Tate & Lyle by visiting our history page.