PrOatein® Oat Protein is a natural protein ingredient that helps you deliver nutritious, protein-enriched foods.
Introduction to PrOatein® Oat Protein
Also known as
Oat protein

Consumer demand for nutritious, protein-enriched foods is on the rise, and PrOatein® Oat Protein allows for a unique positioning of your product on the shelf. PrOatein® Oat Protein, like the oat grain it comes from, is rich in dietary-indispensable amino acids, including the desirable branched chain amino acids that are important for muscle growth and muscle recovery.
This natural, clean-label protein concentrate is made from locally sourced Swedish oats applying a gentle process without need for solvents or chemicals. 
Its mild taste and ease of formulation make our PrOatein® Oat Protein an extraordinary ingredient for foods and supplements for consumers of all ages.
Our non-GMO ingredients offer the same functionality as their traditional counterparts without compromising on taste or texture, meaning you can offer your consumers everything they're looking for in the foods and beverages they love.
PrOatein® Oat Protein is available globally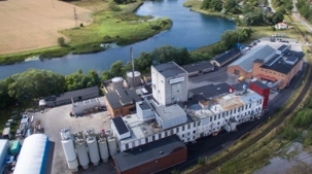 Sale of oat ingredients business
Tate & Lyle has sold its oat ingredients business to Lantmännen.
During the transition period customers should continue to order from (and will be supplied by) Tate & Lyle.
Nutrition Facts per 100g
Energy

445kcal/1865kJ

Fat (oat oil )

       of which saturates

            mono-unsaturates

            poly-unsaturates

17g

3g

6.5g

7.5g

Carbohydrate

       of which sugars

18g

0.4g

Fibre (oat beta glucan soluble fibre)

2g

Protein

54g

Salt

<50mg
*Applicable for the EU
PrOatein® Oat Protein Application areas
Tate & Lyle's trends and insights
As a business, we rarely stand still. We invest a huge amount of time and energy in researching, assessing and analyzing trends and insights across both industries we work in. Developing a deep understanding of our customers is a big part of our product development approach.
Read more
Explore the trends and insights hub
How we apply PrOatein® Oat Protein
Our unique patented process lets us concentrate the protein component of the oat, without using chemicals or solvents, so that it can be used as a clean-label individual ingredient in its own right. A light-brown powder with good wettability and non-stick qualities, PrOatein® Oat Protein is an excellent accompaniment to other ingredients in our food and beverage solutions portfolio.