Search for jobs
Do you want to join a company that is working to make a difference in people's lives? Across the globe, we are improving lives for generations. And we need talented and skilled people to help us on this journey.
What our finance team does
Our Finance teams work to ensure Tate & Lyle becomes the leading global provider of speciality food ingredients and solutions. As the business grows and changes, Finance provide the vital insights that underpin our decision-making. The teams support the Group Finance Director and senior management in a wide range of ways, including financial analysis and reporting, investment appraisal, financing, strategy, procurement, corporate development, tax, treasury and the maintenance of appropriate controls. They are customer-focused, responsive teams, passionate about continuous improvement and proud of the essential role they play in helping to deliver the business strategy.
Working in Finance gives you superior insight into our complex and diverse business and provides an opportunity for you to really influence how our business evolves. If you thrive in a stimulating environment, and welcome a challenge, join one of our Finance teams and help take our successful global business to even greater heights.
A few words from our people
"There's something special about the team I work with. We all work well together, complementing and helping each other…"
A career with us
Working at Tate & Lyle presents many exciting opportunities for growth and development.
About Tate & Lyle
Tate & Lyle is a vibrant, global and hardworking environment. We make food extraordinary and all our people have an important part to play in making this happen.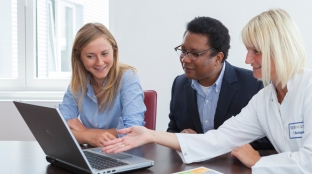 Financial information
Find out more about Tate & Lyle's financial information by visiting our dedicated page.