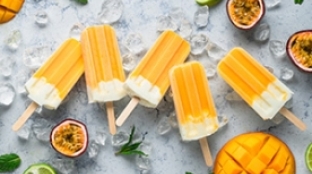 Explore the value, versatility and potential of fibres!
Did you know that fibre adds body and mouthfeel to reduced-sugar ice creams and desserts, for textures consumers love? Learn how fibre can help you meet your formulation challenges and goals with module 2 of Fibre University™
The fibre curriculum for modern food scientists
Selecting the appropriate fibre solution is a key challenge for food scientists and formulators when also navigating taste, texture, nutrition, processing and labelling of new and reformulated products. A high level of cross-functional expertise is required to identify the best fibre solutions for specific applications and categories. That's why we're starting right at the beginning for module one, with 'fibre fundamentals', covering the basic principles of formulating with fibres:
Why are there so many soluble fibres?
What nutritional considerations are there for soluble fibres?
What challenges can soluble fibre solve in food and beverage formulations?
How could soluble fibres aid sugar and calorie reduction efforts, fortification efforts, and processing and manufacturing performance?
What are the main considerations for food formulators to consider when reformulating or developing new products with soluble fibres?
There are different kinds of soluble fibers in the market, and they have different characteristics in terms of functionality, stability, and nutrition.
Fibers are different than sugars, yet some fibers can provide similar functionality in reduced sugar applications by fortifying foods for enhanced nutrition and adding creamy mouthfeel and bulk in products such as reduced sugar ice cream and frozen desserts. In this session, learn how:
How to formulate in non-dairy and high protein, and low net carb formulations
Fibers can have different fiber content, sugar content, viscosities, and process stability
Liquid and powder fibers of high digestive tolerance can aid formulators looking for fortification, sugar, and/ calorie reduction
Understanding the characteristics of the liquid or powder fiber ingredient will aid in choosing the best fiber for applications such as bars, beverages, ice cream, and others.
Fibers can have different fiber content, sugar content, viscosities, and process stability. They can withstand homogenization and high pressure processing reduced in sugar and/ or fiber fortified.
Transforming Lives through the Science of Food
Fibre University is a core component of Fibre-Vantage Expert Systems. It is designed by scientists for scientists as a tool to learn about the opportunities to fortify with fibre making products healthier, while still tasting great.