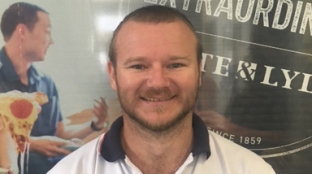 Danny Molloy, Production Manager
My name is Danny Molloy and I'm a Production Manager for Tate & Lyle based in Brisbane, Australia. I've been with the company for just over 18 years now – I started as a Production Operative in 1998. I started out working on the shop floor and I've progressed to my current level – so it's been a rewarding journey.
In my role, I ensure that production runs as smoothly as possible. It's important that we produce great quality products that reach our customers on time. I really enjoy working at Tate & Lyle, and I've had the pleasure of working with colleagues from a variety of different cultures.
I've been fortunate enough to develop my management and project management skills from working at Tate & Lyle. I didn't have any set career aspirations when I started working with the firm, but as I got older, and understood the business more, I have taken on a greater level of responsibility and have become accustomed to leading people. My colleagues are able to act quickly while maintaining high standards, ensuring that our product delivery meets customer expectations.
 I really identify with our company Values and following good safety practice is central to my role.  I want my staff to be able to go home and enjoy quality time with their families at the end of each working day.