In 1873 Edouard, Felix and Philemon Callebaut , and their partner Joseph Lejeune, founded the SA Callebaut Frères et Lejeune glucose plant in Aalst, Belgium. Hops and sugar traders to some of Belgium's 3,000 brewers, the Callebaut brothers had listened to their customers' complaints about rising sugar taxes – and decided to exploit the possibilities of extracting glucose from starch.

While Joseph Lejeune and Edouard Callebaut concentrated on technical matters, overseeing production and the purchase of raw materials, the eldest brother, Philemon, took responsibility for financial transactions, assisted by Felix. Another younger brother, Prosper, became a director in 1878, and, after the death of Philemon, he launched the first pension for retired staff in Belgium – one Belgian franc a day.

In 1926 the Callebaut brothers merged their business with the Ancienne Firme Blieck Frères and formed a new company, Glucoseries Réunies, which later became the Amylum Group.

Tate & Lyle acquired a stake in Amylum in 1976, doubled it in 1988, and acquired the remaining minority interests in 2000.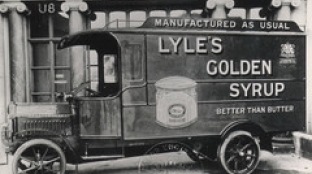 Learn more
Find out more about the history of Tate & Lyle by visiting our history page.